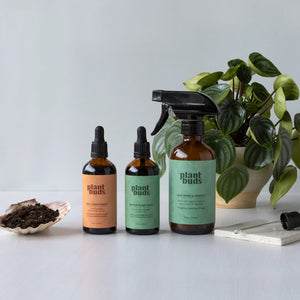 PlantBuds Plant Care Trio
Regular price
Sale price
$52.90
Tax included.
Shipping
calculated at checkout.
---
Keep your plants happy, healthy and luscious with this simple to use three-piece plant care kit! The Plant Buds Plant Care Trio set covers the three most important aspects of plant care; fast growth, strong roots, and healthy, glowing, dust-free leaves.
Take the guesswork out of plant care all year with this easy, beautiful kit delivered straight to your door.  
The contents:
1x Liquid Plant Food (100ml)
1x Liquid Soil Conditioner (100ml)
1x Leaf Shine & Protect (250ml)
100% natural and vegan
Directions / Application: 
PlantBuds Indoor Plant Food and Soil Conditioner application:
Shake before use.
Dilute 2ml per litre of water and apply every 1-2 weeks in warmer months, and every 2-3 weeks in cooler months.
Both products can be mixed together in one container for ease.
PlantBuds Leaf Shine application:
Shake before use. Remove dust from leaves. Spray product on to a soft cloth and gently wipe leaves. Can also be sprayed directly on to leaves. Do not spray when foliage is in direct sunlight. Application can be repeated as necessary.
If you notice lumpy texture (which can be caused by changes in temperature), run bottle under hot tap and shake for 30 seconds.
Ingredients:

PlantBuds Indoor Plant food:
Nitrogen (N): 8%
Phosphate (P): 4%
Potassium (K): 8%
Chelated trace elements
PlantBuds Soil Conditioner: Carbon, humic acid, fulvic acid, trace elements.
PlantBuds Leaf Shine: Certified organic neem oil, lavender essential oil, natural wetting agent.
PlantBuds Plant Care Trio FAQs:
Are these products made from natural ingredients? Yes, they are 100% natural.
Are they suitable for all plants? The plant food and soil conditioner are, however we recommend you use them at half strength for sensitive plants. The leaf shine is suitable for most plants, but avoid spraying those with hairy or prickly surfaces.
Is it vegan/cruelty free? Yes! No animals were harmed or used to create this product so it is 100% vegan and cruelty free.
When propagating a cutting, how much indoor plant food should I add to the water? Add a few drops to the water every few weeks.
Can the indoor plant food be used as a foliar spray? Absolutely! Mix 1ml per litre in your spray bottle and apply as usual, but avoid spraying in direct sunlight.
Why should I shine my plants leaves? Aside from making your plants glow beautifully, removing dust from foliage is essential for plant health and growth. Dust builds up due to no rain/wind to remove it, blocks sunlight, and therefore reduces the plants ability to photosynthesise. 
Will the oil clog the plant pores? Nope. Neem oil is a non-comedogenic which means it won't block pores.